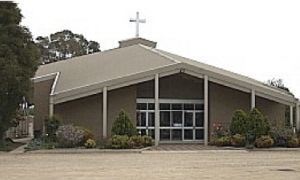 Our Lady's Parish Vision "That Our Lady's Parish be a community modeled on the Gospel values of Jesus Christ."
Our Lady's Primary School is a vital part of the mission of Our Lady's Parish.
The school was established in the early phase of the life of the parish and has played an important role in the parish's program for community outreach, sacramental preparation, and family support.
Each class attends parish masses once a term and are part of major parish celebrations that align with the school year.
Our Lady's parish has masses on weekends and throughout the week. At this time they are 9:00 am Sunday and 9:00 am most Tuesdays and Fridays. Weekday masses are subject to change depending on other masses scheduled in Wangaratta.
For parish information please contact the presbytery on (03) 57221970 or go to www.catholicparisheswangaratta.org